Jin Jing Zhong:
"We collected all we had seen and heard, we gathered ancient manuscripts given to us by our tutors to compile the present edition".
"72 Arts are perfect exercises. First of all, it is necessary to assimilate the hornbook of mastership. Apt moment, apt time, apt mystery... Strictly observe instructions, and you will be able to become as perfect as the Dragon"
/Shaolin Tutor Chun Jin/

For the first time in English!
Jin Jing Zhong
Authentic Shaolin Heritage: Training Methods of 72 Arts of Shaolin.
(Tanjin, 1934) .
For the first time the book describes full training methods in all 72 Shaolin Arts. Being until recently for outsiders the most secret part of training of Shaolin monks, which made them invulnerable in fight, 72 Shaolin Arts at the present time become available to all who are ready to practice them persistently and with an open heart. Training methods described in the book allow to develop supernatural abilities, far beyond abilities of an ordinary man...
Now available in Paperback and eBook
You can order this book here: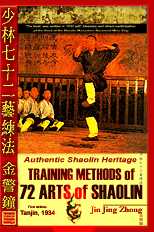 "The Shaolin Martial Art has
absorbed a lot of schools and
styles. 72 Arts are the top of
true mastership"
/Shaolin Tutor Ru Jing/